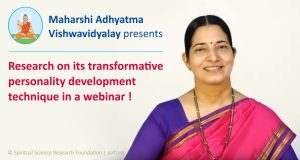 Finding peace of mind is elusive in today's world, with levels of stress continually on the rise. This year has arguably been more difficult than most in the recent past in terms of stress due to the ongoing coronavirus pandemic and how it has changed how we all live. Given this background, it is not surprising that many are looking for ways to cope and ways to be happy in this new adverse normal.
It is in this situation that the Maharshi Adhyatma Vishwavidyalay got the opportunity to present its pathbreaking research on the Personality Defect Removal Process (PDR) in a webinar organised by the South Asian Medical Student's Association (SAMSA). The PDR process is a transformational tool that enables one to have a happier life and improves the quality of one's spiritual practice. The webinar was held on 1st November 2020. It was hosted by Dr Shriya Saha, a mentor and the treasurer at SAMSA. Dr Nandini Samant, Consultant Psychiatrist at the Maharshi Adhyatma Vishwavidyalay, who has dedicated all her free time to doing spiritual practice since 1998, presented the research. She presented key aspects of the process such as how to implement it along with going over practical examples and real-life case studies. You can view the webinar below.
The webinar had good attendance, getting over 11,000 views. The attendees included doctors and medical students. In addition, there were registrations from 14 countries, including the USA, the UK, Canada, Spain and India.
Some of the comments from the attendees are given below.
'Divine, enlightening, life-changing, beyond words.'
'The session has particularly enlightened me on accepting and treating stress and anxiety as an actual persistent problem, rather than something abstract and situational. I have never found a more practical yet pill-free way of tackling mental health issues.'
'A wonderful informative session. Stress is one of the main problems in today's generation which needs attention, so it is dealt with. It's really helpful in the present scenario.'
'Excellent information, a scientific explanation and great guidance provided by madam.'
'The session was thought-provoking.'
Attendee Survey Response
Of the attendees who filled out a survey about the webinar, 67% rated it as 'Excellent', while 25% rated it as 'Very good'. 91% of respondents said they would be interested in attending future workshops on PDR to further learn how to adopt the process.
The PDR process has been key to bringing about deep and lasting changes that many have experienced. People have gone from insecure to confident, angry to calm and reserved to open. The positive changes that we have witnessed others undergoing are nothing short of remarkable. We are grateful for the opportunity to spread awareness about this liberating technique that anyone can make use of through this webinar.
More detailed information on the PDR Process and how to implement it in your life is given in the PDR section of the SSRF website.