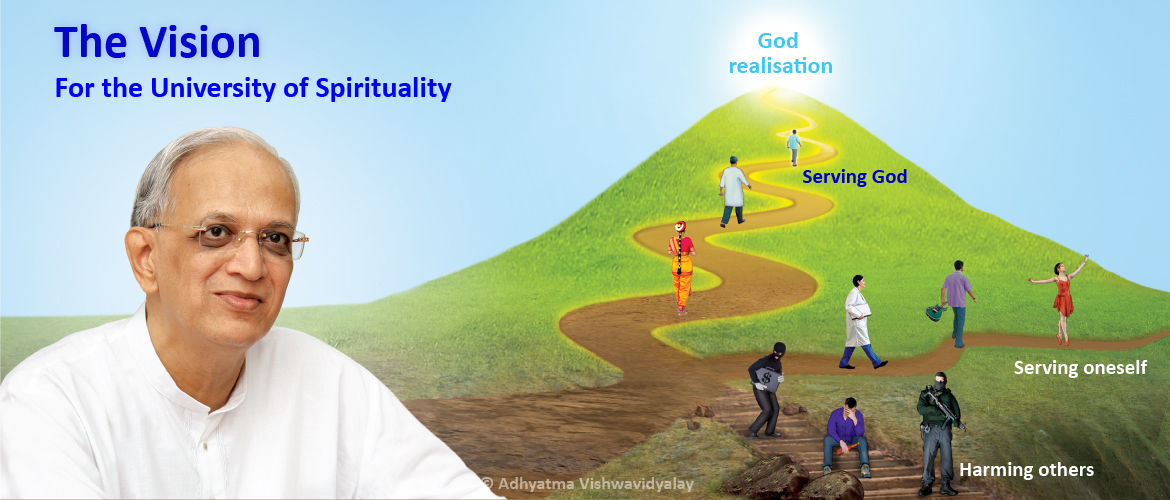 A University for the Ages
A new era in human history will be dawning, and we are witnessing the darkest hour before dawn. In 2023 after the dust has settled from the Third World War, we and our future generations will witness almost a thousand years of peace due to a period of spiritual renewal. The bedrock of this millennium will be spiritual learning and spiritual evolvement, and will form the basis for all governance and life on the planet. A new way of thinking will be required for this period and its generations. More importantly a new education system will be required to nurture a spiritually evolved generation of people, one that is quite different from the one we have today.
The Vision – Imagine a University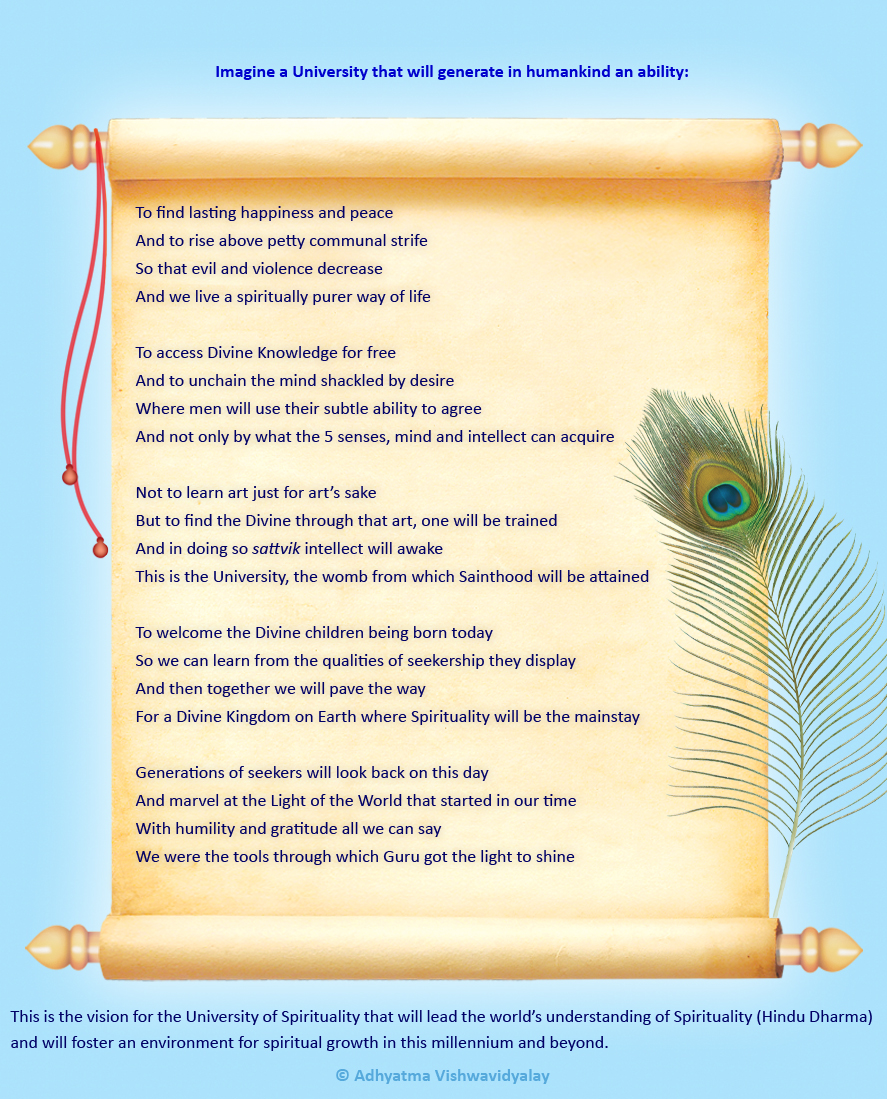 We invite you to be a part of the Maharshi University of Spirituality and in doing so a part of history.

Out of the ruins of Takshashila, Mithila and Bhojshala, which in previous millennia were universities of the same calibre and ilk, and then were destroyed by barbaric invaders, the flame of Absolute Knowledge will rise again into the new millennium through the Maharshi Adhyatma Vishwavidyalay (also known as  the Maharshi University of Spirituality).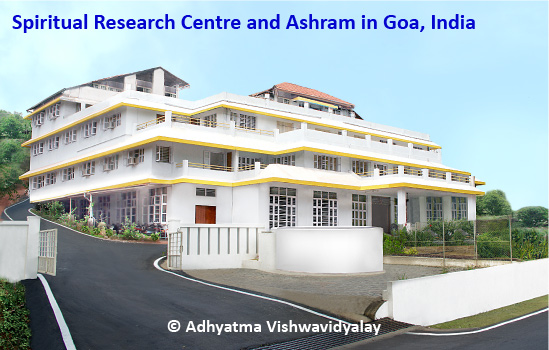 Thousands of seekers from 25 countries are practicing Spirituality under the guidance of the Spiritual Research Centre and Ashram in Ramnathi Goa which is the precursor to a fully-fledged Maharshi University of Spirituality. Approximately 400 seekers reside at the Spiritual Research Centre and Ashram and are fully engaged in various activities to help promote a better understanding of Spirituality in the world. Intensive spiritual workshops are conducted regularly where seekers from all over India (Bharat) and the world come to attend. Extensive spiritual research into various spiritual phenomena is being conducted. Along with this, the Research Centre has a fully equipped audio visual studio to record various spiritual events, subtle experiments and spiritual phenomena.
Mission – University of Spirituality
The main objective of the University is to facilitate the spiritual progress of seekers and the spread of Spirituality (Hindu Dharma) throughout the world. The students of the Maharshi University of Spirituality are called 'seekers'.
Founder – Maharshi University of Spirituality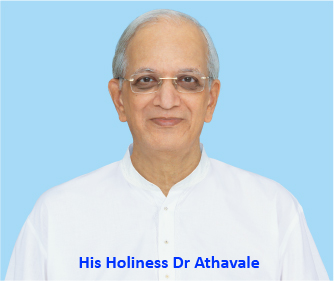 The Maharshi University of Spirituality also known as the Maharshi Adhyatma Vishwavidyalay is founded by His Holiness Dr Jayant Balaji Athavale.
H.H. Dr. Athavale was by profession a Consultant Clinical Hypnotherapist from Mumbai, India. He had undertaken extensive research on clinical hypnosis both in India and overseas when He was in Britain for seven years from 1971 to 1978. During His medical practice, He observed that He had an excellent cure rate of 70%. However, 30% of His patients did not recover completely. After a while, He learned that some of these patients with whom He had very little success, had recovered after adopting spiritual remedies such as visiting sacred places, remaining in the Holy company of spiritually evolved people (Saints) or performing certain religious rituals.
Even though H.H. Dr. Athavale was an atheist at that time, this phenomenon intrigued Him and prompted Him to take steps to understand the reasons behind these cures. He visited Saints from different spiritual paths all over India. He asked them questions about the theory as well as the practice of the science of Spirituality and meticulously recorded the answers. Slowly, He began to realise that the science of Spirituality is far superior to physical and psychological science. Medical sciences are limited in dealing with the physical aspect and to some small extent the psychological aspect of the patient, but this leaves out the entire spiritual dimension. Saints from India told Him that Spirituality is not a science that can be learnt merely from reading books, but only from practicing it. H.H. Dr. Athavale was ready to do anything to learn this science that would cure his patients. So He did exactly what the Saints told Him to do, that is, He started spiritual practice under the guidance of Saints. As a result of this, He was graced with the attainment of His Guru (Spiritual Master and Guide) His Holiness Bhaktaraj Maharaj.
Subsequently, He began to propagate this knowledge by giving lectures on the science of Spirituality. The subject was put forward in such a simple, scientific and pragmatic manner that people started to practise Spirituality and found an immediate benefit in their lives. When He used the spiritual techniques that He had learnt on His patients, He noticed that there was an immediate enhanced cure rate. He also realised that the science of Spirituality was not limited to only helping His patients, but it was a science that would help humanity at large. The reason for this is that there are spiritual causes behind not just illnesses of patients, but also behind all major events and most problems in life.
From 1985 onwards, H.H. Dr. Athavale has worked tirelessly in the field of Spirituality to share with humanity, His research into the understanding of the spiritual dimension and spiritual practice using a scientific approach. With His blessings, we present His scientific findings over the years in a simple language that can be understood by all. We have used graphs, diagrams and tables extensively to explain concepts of the science. This website is run on a voluntary basis by a number of seekers of God from different faiths who have been guided by H.H. Dr. Athavale and who have experienced the science of Spirituality first hand.
Guiding principles of the Spiritual University

A focus on the seeker's individual spiritual practice
Most people are not aware that 'there are as many temperaments as there are people and a corresponding number of paths of spiritual practice'. More often than not, those who guide society on spiritual practice teach it as per the Spiritual Path known to them. Unfortunately this is akin to a doctor who gives the same medicine to all his patients regardless of their illness. It is for this reason, most seekers do not progress spiritually. This guiding principle to tailor-make spiritual practice that is unique to each individual, will shape all training at the University.

Expansiveness
The objective of seekers attending classes in this University is not to acquire just worldly knowledge, but 'to acquire knowledge for one's spiritual upliftment; and not to limit the knowledge just to oneself, but to spread the knowledge far and wide, teach society the path of spiritual upliftment and bring about its welfare'. Campuses and centres for spiritual learning will be developed not only in India but all over the world.

No bar on age
There will be no bar on age for admission in this University. It is open to people of all ages regardless of any previous education. The only criteria that is necessary is one's yearning for spiritual practice and the desire for God-realisation.

Spiritual and professional knowledge
The teachers in each field will need to be spiritually evolved themselves along with having skills in a certain art or discipline. Since God-realisation is the main aim of education, emphasis will be laid on spiritualisation of every aspect so that the seeker progresses through each activity towards God. To this end whatever Path a seeker may choose to grow spiritually, the practice of nullifying personality defects, reducing ego, awakening spiritual emotion and increasing spiritual love will be necessary.

Free of charge
The tuition fees along with boarding and lodging fees for the students will be free-of-charge. The only fee is for the student to sacrifice their attachments to body-mind-wealth. With their basic needs taken care of seekers can live happily on the earth, practicing Spirituality so that they can achieve liberation from the cycle of birth-death. This is actually a meagre fee to pay for God-realisation; where we gain the ultimate in return for so little. On the other hand, for those who practice Spirituality with expectation of worldly gain admission will be deferred. Admission will only be granted when they learn to overcome this worldly goal for which they practice Spirituality.

Responsibility
In the present system of education, the role of a teacher ends once the student understands the curriculum. However, in Spirituality, the words have only 2% importance and the experience of the words has 98% importance. Hence, it will be the responsibility of the teachers in the Maharshi University of Spirituality to get spiritual practice done from their students so that they experience Bliss.

No exams
In other universities, when the results of examinations are out, the students come to know whether they have passed or failed. However in the Maharshi University of Spirituality passing means attaining a certain spiritual level. Many seeker of the Maharshi University of Spirituality have (through spiritual practice) gained the subtle ability to understand if a seeker has attained the spiritual level of 60% or 70%.