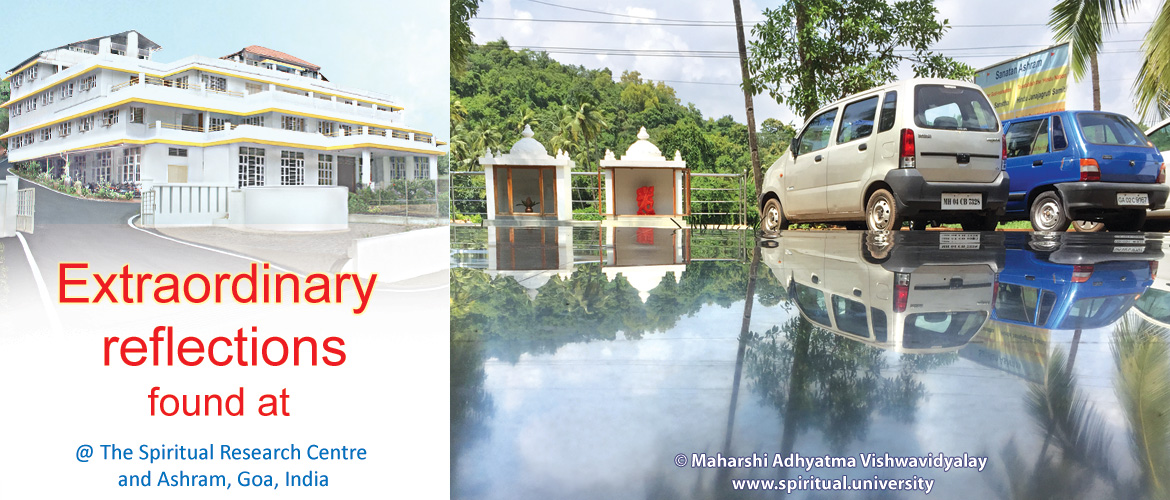 In this section we discuss another unique phenomenon that is seen at the Spiritual Research Centre and Ashram. Without any extra work or any polishing of objects, the glass and flooring at the Spiritual Research Centre and Ashram have begun to develop a high level of glossiness. As a result, we are often witness to a visual treat of reflections and shadows, which create a kaleidoscope of images for the viewer. More importantly these don't seem to be just ordinary reflections because many visitors have told us that they also have a calming effect on the mind.
The Spiritual Research Centre and Ashram is the premises of a non-profit organisation and due to this, our budgets and resources are limited. The flooring of most of the public spaces and walkways around the ashram are made of simple kota (limestone) tiles. In order to obtain a mirror finish on limestone tiles, one needs to put the tiles through a total of 7 processes. However, due to resource constraints, we have done just the bare minimum, which is 4 processes to get a finished look. No extra polishing has been given to these tiles apart from regular mopping by ashram seekers. Even so when walking through the corridors of the Spiritual Research Centre and Ashram, one can see high quality reflections in the tiles. One can see a clear reflection of the person walking with all the details of the person's image. Apart from high quality reflections, some of the surfaces have developed a wavy look to them thus making the surface look watery, much like the surface of a lake. In fact, the front reception porch of the Ashram resembles an infinity pool.
In the room of H.H. Dr Athavale, every surface i.e., of objects, flooring, table-tops, etc., has automatically developed a high level of gloss. As a result, we are constantly amazed with the variety of images that we see due to reflections, shadows and shadows of reflections. The glass panes display a unique property of being highly transparent and reflective at the same time. When looking through glass panes, especially in His room, it is difficult to discern which is the actual image on the other side of the pane and which is the reflected image. In the slideshow below, we have provided some examples of reflections that can be seen throughout the Spiritual Research Centre and Ashram.
Preset with id 19 does not exist!Playlist with id 4 does not exist!
An appeal to experts in the field of reflectivity
As you would have seen from the slide show above there are some examples of high quality reflections without having done any work to achieve them. We request those of you who are experts in reflective surfaces to give your valuable input as to how objects and flooring can automatically develop a sheen to them without any extra work being done to facilitate it.
Other articles
Spiritual research on the high level of reflection seen in the Spiritual Research Centre and Ashram.  –

Coming soon
Related Articles